Porsche Service Department
As one of the leading Porsche dealers in Florida and as a top destination for new Porsche cars near St. Augustine, FL, Porsche Jacksonville takes great pride in its diverse selection of luxury Porsche sedans, coupes, cabriolets, and SUVs. Wherever you are in Florida - Jacksonville, FL, North Florida or one of many surrounding cities - you can depend on us to deliver the Porsche vehicle you're looking for at a fantastic price and backed by outstanding Porsche service and parts. Our Jacksonville, FL Porsche dealers are some of the friendliest and most knowledgeable in the entire state, always going the extra mile to satisfy our customers. Visit us today at 11211 Atlantic Blvd. in Jacksonville, FL and indulge in a one-of-a-kind car-buying experience.
Our 24-Hour Roadside Assistance is available to you at 1-800-PORSCHE (1-800-767-7243).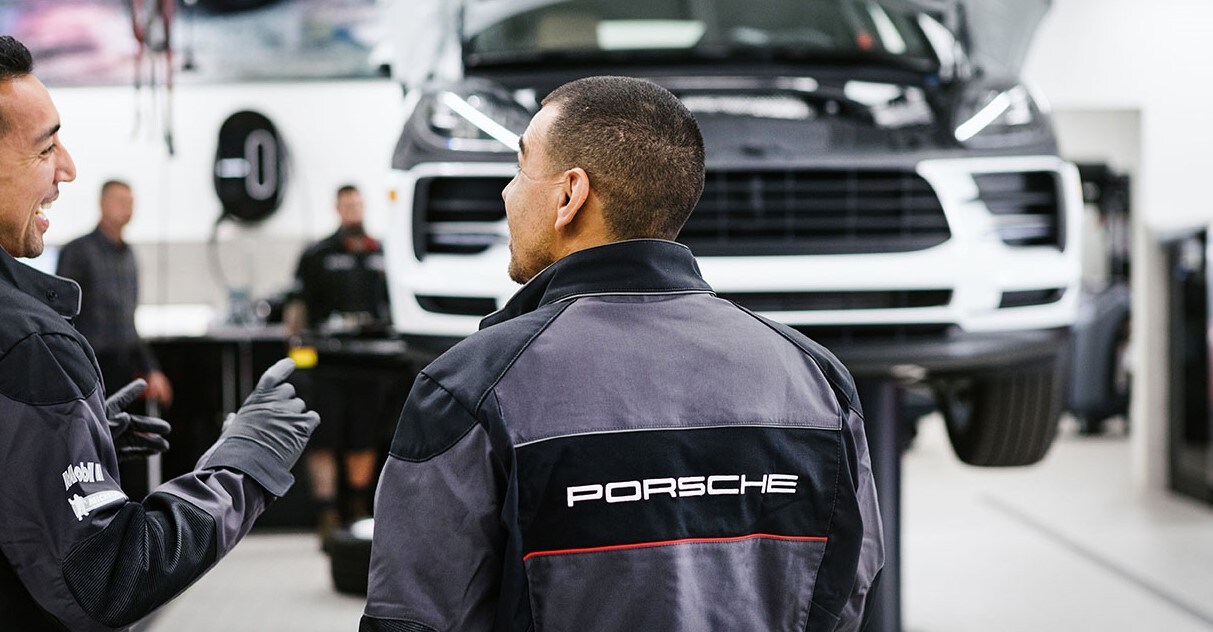 Why it's Important to Keep Up with Vehicle Maintenance
The Porsche brand boasts some of the world's best-engineered luxury vehicles, but just like every other automobile, taking care of your Porsche auto and sticking to a regular service plan is integral to a long, enjoyable ownership experience. The most important recurring maintenance step you should adhere to is getting your vehicle's oil changed every 3,000 - 5,000 miles. Given the premium oil that most Porsche automobiles use, it's likely we'll see you around every 5,000 miles for an oil change. Fresh oil means a well-running engine. Another important ownership responsibility is rotating your tires, and that's something we can assist you with at our Jacksonville, FL Porsche dealership. The rule of thumb is to rotate your tires every 6,000 - 8,000 miles, though that could vary depending on what kind of tires you have, the type of roads you typically drive on, driving habits, etc. Rotating your tires ensures that they wear evenly, providing you with the traction you need.
Top Florida Porsche dealers like us understand the importance of keeping your Porsche vehicle well-maintained. St. Augustine, FL Porsche owners are welcome to contact us for Porsche service tips today!
Porsche Service Center
When you bring your car in for service at Porsche Jacksonville, we think you'll find that our professionalism and knowledge are a cut above the rest. Operating six days a week, our Porsche service center is staffed by some of the most talented automotive technicians you'll ever meet. In fact, the Porsche automotive school is widely regarded as one of the toughest in the auto industry - so you know you're in good hands when you drive your vehicle into one of our state-of-the-art service bays. Our Jacksonville, FL Porsche dealership also offers something many other dealers don't: EIGHT Gold Meister Technicians, all of whom lead our team with unparalleled insight into everything that makes a Porsche vehicle go.
Questions about having your Porsche automobile serviced here? Our Jacksonville, FL Porsche dealers have the answers!
Fulfilling regularly scheduled maintenance obligations is important for drivers of any automobile, but especially so for world-class vehicles like a Porsche Panamera or a Porsche 911. Oil changes, tire rotations, and parts replacement are important too, and all of these things can be addressed at Porsche Jacksonville, servicing Northern Florida and the greater Jacksonville, FL area. If you drive a Porsche near North Florida, it doesn't matter whether you purchased it from us or another dealer - what matters is that you take advantage of our world-class technicians and cutting-edge facility for all of your Porsche service needs!